Custom Tile Showers
When it comes to home design and remodeling, bathrooms are a room that is top of mind. With so many benefits to transforming the look and feel of a bathroom, it's no wonder why homeowners continue to choose a bathroom remodel as their first project. At Lippert's Carpet One Floor & Home, we can help you enhance your bathroom with a brand-new custom shower. From our vast selection of tiles available to our expert sales team, we are here to make your bathroom a dream come true.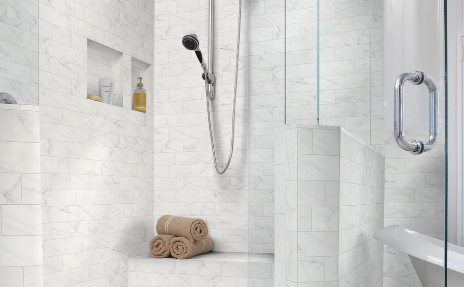 Custom Tiled Shower Benefits
One of the main benefits of a custom tiled shower is the value it adds to your home. Not only does a custom shower look gorgeous, but when guests see it, it usually makes their hearts flutter. There is something about a custom shower that is unlike any other area of the home, making a tiled shower an excellent investment. Other benefits of tiled showers include durability, easy maintenance, and adaptability to many styles. Tile is a strong material that does not tend to crack or chip easily. Because bathrooms are used every day, and sometimes multiple times a day, tile is considered one of the best materials. For these same reasons, plus the fact that tile is moisture-resistant, a tile shower can mean peace-of-mind for you. Don't worry about how long the shower is going to last, as tile will prove itself one of the most durable options on the market today. Showers are not always easy to clean. If you have a tub that always seems dirty, an upgrade to tile may make your life much easier. Tile doesn't collect dirt or debris, so wiping down showers is simple with a cloth or a rag. Last but not least, even though a tile shower is long-lasting, it doesn't mean it will always be in style. The good news with tile is that it is adaptable to many styles, so adding décor can completely change the look of the bathroom.
Whether you enjoy the exciting pattern of bold tile or you like the stone look of textured tile, a custom tile shower could be just the upgrade you've been looking for. At Lippert's Carpet One Floor & Home, we are proud to provide custom tile showers to: Grants Pass, Medford, and Klamath County, OR.