Types of Tile
Tile is a trendy choice for flooring, backsplashes, and even accent walls. At Lippert's Carpet One Floor & Home, we know that tile is one of the top options in flooring today. That's why we carry a selection of tile that is sure to please you, with ceramic, porcelain, and stone tiles available. Each type of tile has its advantages and disadvantages, so if you want to find out more about each one, read on! We will teach you the ins and outs of tile, and help you become more educated on the products.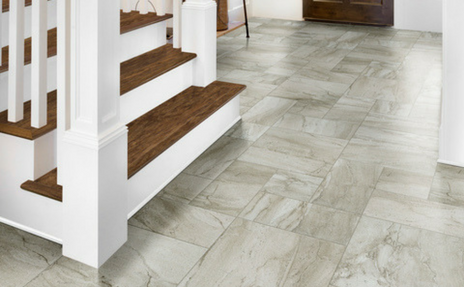 Ceramic Tile
Ceramic tiles are popular not just in residential homes but in commercial spaces as well. They are known for being long-lasting, sturdy, and budget-friendly. While ceramic tile is durable, it's best for moderate traffic areas. Ceramic tile is commonly seen in custom showers and kitchen and bathroom backsplashes. With so many styles available, ceramic tile is an excellent choice for almost any home design.
Porcelain Tile
Porcelain tile reigns supreme when it comes to top-notch durability. During its creation, porcelain is fired at higher temperature and pressure than ceramic, which makes it even stronger than ceramic. Because porcelain is so durable, it can be installed both indoors and outdoors, in high traffic areas such as hallways and mudrooms, and nearly anywhere wear tile can be installed. Even though porcelain is so strong, it is still second in popularity against ceramic.
Stone Tile
Stone tiles are made from materials like slate, granite, and marble and are completely natural. They come from different areas, so no two stone tiles are ever identical. Depending on the size of the project, stone tiles can be a costly addition, though the luxury they bring to home design is loved by many.